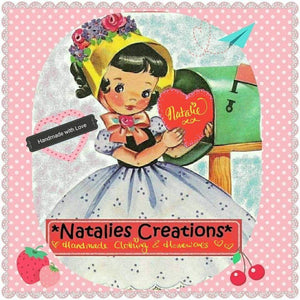 🎊 CONGRATULATIONS 🎊 on purchasing one of my E-GIFT VOUCHERS!! 🤩 I'm very excited to see what you use it for. 
By purchasing a GIFT VOUCHER from me you automatically agree to the following terms: 
♡ Choose your own $$$ value from the drop down menu to use yourself at a later date or gift to someone special. 
♡ This is a internet generated Gift Voucher and you should not expect a physical card in the mail. Your receipt for this Gift Voucher will be sent via email and reveal a special code. This is your proof of purchase and should be kept safe, as this Gift Voucher code can only be used once.
♡ You may use my Gift Vouchers towards any Ready-Made items I offer or to organise a Custom-Made creation with me. (Custom-Made creations need from 8-12 weeks notice to be organised, made and delivered. Please be aware of that to avoid disappointment) This voucher should be treated like money, once you choose to use it your purchase will be in motion just like any other order.
♡ Valid for strictly 12 months from date of purchase...
*NO exceptions, excuses or extensions whatsoever. Only valid for use on my website, unless otherwise arranged. 
♡ This voucher is of monetary value and should be kept on file with utmost care. If lost or used without your knowledge there are no replacements. Keep the code safe.
♡ NO Refunds or Exchanges on Gift Vouchers at all.
(*These terms may change at anytime without notice)
🌈 IMPORTANT T&Cs FOR ALL CUSTOMERS TO READ: https://nataliescreationscouture.com/policies/terms-of-sale